Blog
Blog
No posts exist for this category.
Blog categories
Wish to buy currencies/move currencies abroad?
Use Ebury Partners, our preferred choice: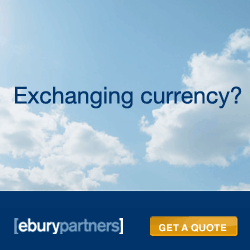 Please note
The content of these blogs are for your general information and use only and is not intended to address your particular requirements. They should not be relied upon in their entirety and shall not be deemed to be, or constitute, advice.
Although endeavours have been made to provide accurate and timely information, there can be no guarantee that such information is accurate as of the date it is received or that it will continue to be accurate in the future.
No individual or company should act upon such information without receiving appropriate professional advice after a thorough examination of their particular situation. We cannot accept responsibility for any loss as a result of acts or omissions taken in respect of any articles.
Wish to buy currencies/move currencies abroad?
Use Ebury Partners, our preferred choice: